6 Questions To Ask Your Physical Therapist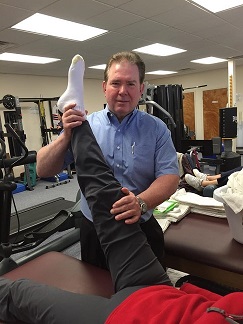 Did your doctor refer you to a physical therapist as part of your recovery process? Obviously, this can be a great way to speed your healing and return to what you love doing. However, it's important to understand what they do, and how they can help you and facts about physical therapy.
At Farmingdale Physical Therapy West, our mission is to provide you with a pain-free, unrestricted, high quality of life. Therefore, we encourage our patients to ask us whatever questions they may have for us. In this post, we'll break down the six questions you should ask your occupational or physical therapist and why.
1. How Can Occupational/Physical Therapy Help Me?
Of course, if you don't know much about what physical therapy can do for you, you shouldn't hesitate to ask about it. We're happy to fill our patients in as much as possible right off the bat. In fact, we consider it one of our highest priorities.
Your physical therapist can give you a comprehensive lesson on what this treatment is, how it can help you specifically, and the many ways you can achieve your goals.
2. What Are Your Credentials/Qualifications?
Admittedly, you may feel rude asking this question. However, it's actually important to know that your therapist is qualified and capable. Remember, there are a diverse range of different therapists these days. Therefore, you should always confirm you're working with the right kind. In addition, you should always check to make sure they're licensed to work in your state.
3. Do You Have Training Specific to My Needs?
Often, occupational/physical therapists work within several different settings. Additionally, many of them can specialize in a variety of different acute or chronic injuries, issues and conditions. So you should always ask your therapist if they have the necessary training to alleviate your ailments.
4. Can You Share Your Experiences Treating My Condition?
This is actually a great way to gain some excellent insight into the different treatment techniques they can apply to you. Also, you can get a sense of the results they can help you get, their techniques, what you can expect from treatment, and more. This question can also provide some realistic expectations for what your progress will look like under their care.
Conclusion – Farmingdale Physical Therapy West
Recovering from an injury or any kind of ailment is hard enough. That's why you should enter the physical therapy process with total clarity and a full awareness of how everything works. While the recovery process may be a challenge sometimes, at Farmingdale Physical Therapy West we're here to help you. Therefore, we encourage you to ask us any questions that may come to mind so we can fill you in and alleviate your concerns.
---
Share this article...