Introducing the Alter-G Zero Gravity Treadmill!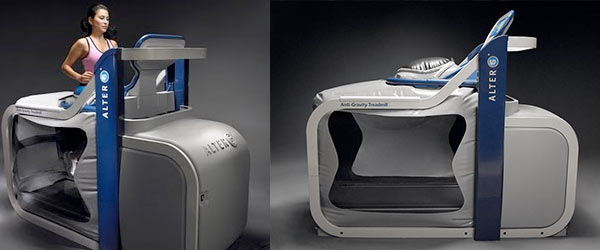 At Farmingdale Physical Therapy West, we're always looking for the most state-of-the-art ways to provide exceptional treatment to our patients. We work very hard to develop and apply the most modern, dynamic therapy methods, to ensure a swift and complete recovery. One of the ways we administer effective treatment is with the most modern and innovative equipment available. By equipping our clinic with the very best machinery, we're giving our patients the most decisive, efficient treatment possible.
Recently, we've added a new item to our equipment lineup: an Alter-G Zero Gravity Treadmill. Undoubtedly, this is one of the most unique machines available today, and produces some of the finest results.
Therefore, in this post, we'll explore the Alter-G Zero Gravity Treadmill. We'll break down how it works, what it does and how it can revolutionize your treatment. Among the questions you should ask your therapist is whether the Alter-G Zero Gravity Treadmill is right for you.
What Is the Alter-G Zero Gravity Treadmill?
Sometimes, patients find it difficult to participate in physical therapy exercises painlessly. Therefore, the Alter-G Zero Gravity Treadmill provides a unique solution. This very unique piece of equipment allows individuals to walk (or run) at a lower percentage of their body weight. In a clinical or physical therapy setting, this is extraordinarily useful. Patients can participate in their rehabilitation and recovery with a lot less pain.
Any patients looking to gain mobility, strength, range of motion or fitness in general can use the Anti-Gravity Treadmill. In addition, they can effectively engage their various muscle groups with minimal stress on their bodies or their sports injury.
How Does It Work?
The Alter-G Anti-Gravity Treadmill uses unloading and gradual loading to administer its numerous benefits. It applies air pressure in order to help alleviate the patient's weight. The patient steps inside the treadmill's chamber and is zipped within. By zipping them in, the lower body is properly enclosed and supported by the treadmill's air pressure.
Once the machine calibrates itself to accommodate the individual, the therapist can adjust the body support percentage as necessary. Then, the treadmill operates a lot like a regular treadmill with speed adjustments for walking or running.
Within a clinical setting, therapists usually keep the sides and back of the "bubble" clear in order to properly observe mobility and gait mechanics. Basically, by carefully observing these factors, the therapist is ensuring better, more effective treatment. Throughout the workout, the patient maintains constant contact with the treadmill's belt, and never drifts (or "floats") within the machine.
Benefits of the Alter-G Zero Gravity Treadmill
The Alter-G Zero Gravity Treadmill is particularly ideal for any athletes dealing with an acute or chronic injury. Without a doubt, this device can help you to gain much more than pain-free physical activity. It can also help you to gain more confidence, maintain cardiovascular health, re-train your gait without compensations from injury, plus, ultimately reduce the risk of injuring yourself again.
Research conducted on these machines supports any body-assisted support systems for rehabilitation purposes. This includes working to recover from joint pain (like arthritis), or for resuming walking following surgery or a debilitating condition like a stroke. Basically, this is because the Anti-Gravity Treadmill is very effective at restoring normal, rudimentary walking and running mechanics. In addition, it supports the healing tissue at the same time.
The Alter-G Anti-Gravity Treadmill is also widely used to aid recovery from fractures, stress fractures, knee or hip surgery and weight loss.
Ultimately, the Alter-G Anti-Gravity Treadmill is a fantastic addition to our clinic, simply because it helps to facilitate total rehabilitation, streamline recovery times and provide you with a remarkable treatment.
Conclusion – Farmingdale Physical Therapy West
Ultimately, adding an Alter-G Anti-Gravity Treadmill to our clinic contributes to us fulfilling one purpose: to provide our patients with the very best treatment possible. And in many cases, rehabilitation and recovery demands state-of-the-art equipment. At Farmingdale Physical Therapy West, we're passionate about doing whatever's necessary to provide you with an outstanding and incomparable recovery, and a swift return to a painless, independent lifestyle.
To get started on your individual treatment, contact Farmingdale Physical Therapy West today!
---
Share this article...