Muscular pain affects millions of people on a daily basis. Unfortunately, for many, these persistent aches, pains and spasms can be much more than a mere nuisance. In fact, it can often be severe and debilitating. Chronic muscle pain can greatly reduce quality of life and prevent those affected from enjoying their favorite hobbies or activities. Sadly, many mistakenly believe their treatment options consist of either surgery or opioid pain medication. However, a new, unique and innovative treatment option is available at Farmingdale Physical Therapy: shockwave therapy.
What Is Shockwave Therapy?
Shockwave therapy is a recent breakthrough in the science of sports medicine and orthopedics. First and foremost, it's an entirely non-invasive treatment technique that provides the benefits of fast pain relief and mobility restoration. Being that it delivers effective pain relief with no need for surgery or medication, shockwave therapy is an an essential means of accelerating recovery and eliminating the factors causing acute or chronic pain. Shockwave therapy involves creating consecutive, low-energy acoustic wave pulsations directly onto an injury and through the skin.
How Does It Work?
A "shockwave" is an acoustic wave which transports energy to painful, injured areas. The shockwave's energy promotes swift regeneration and reparative progress of tendons, bones and other soft tissues.
In addition, the shockwave device's mechanical head delivers a rapid series of low-intensity projectiles. Of course, the therapist can adjust both the frequency and intensity of the shockwaves depending on the patient's tolerance, injury sensitivity or tissue type. At Farmingdale Physical Therapy, we can calibrate our shockwave device at a moment's notice in order to accommodate the comfort and needs of each individual patient.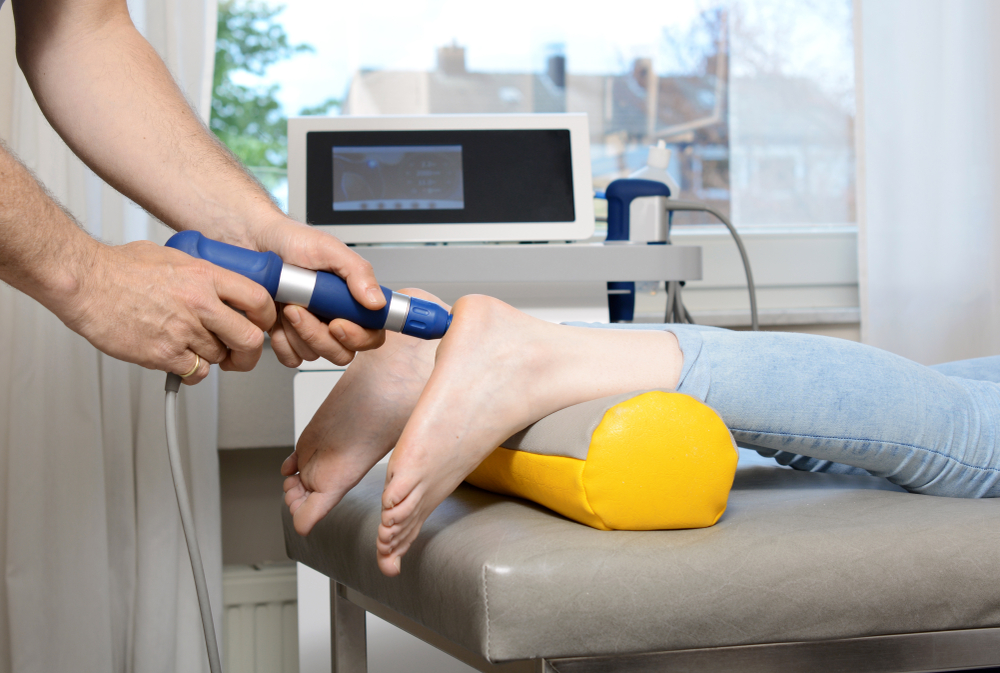 The Benefits of Shockwave Therapy
Of course, natural and non-invasive treatment options free from pain medication (like physical therapy) are always the optimal solutions. Therefore, shockwave therapy is an equally advisable method. Additionally, shockwave therapy has proven successful in numerous scientific studies for treating chronic conditions. Like physical therapy, it activates the human body's inherent healing responses. Also, many people report significantly less pain and improved mobility, and feeling happier and healthier, following their very first treatment.
Shockwave therapy's cost/effectiveness ratio is also particularly excellent. In addition to this, it's an ideal solution for a diverse range of injuries. Shockwave therapy is a totally non-invasive treatment for pain in the shoulder, back, knee, elbow or heal. Anesthesia, controlled substances and prolonged recovery times are completely unnecessary. Furthermore, new research suggests that shockwave therapy can also have a marginal positive impact on acute pain.
What Can It Treat?
Without a doubt, shockwave therapy is ideal for a diverse range of ailments, aches and pains. First, it's great for treating back pain. Of course, back pain is one of the most commonly-reported kinds of pain. Fortunately, shockwave therapy can treat lumbar and cervical spine regions, plus chronic muscular pain. Additionally, it can heal injuries in the lower and upper leg. This includes shin splints and Iliotibial band friction syndrome.
In addition, we can apply shockwave therapy to treat common issues in the foot. Namely, it's been particularly effective healing heel spurs, plantar fasciitis and Achilles tendonitis. It also heals elbow pain like tennis/golfer's elbow and bursitis in the hip, plus calcific tendinosis of rotator cuff muscles in the shoulders. Of course, the extensive list of ailments and injuries that shockwave therapy can treat is continuously expanding. Therefore, you should contact Farmingdale Physical Therapy right away regarding any muscular pain. No matter what it may be, we'll definitely have the ideal treatment solution available.
Shockwave Therapy at Farmingdale Physical Therapy West
To schedule a consultation, contact Farmingdale Physical Therapy West at 516-731-3583. No matter what your injury or ailment may be, we'll collaborate closely with you to carefully develop an individual treatment plan designed to fulfill each of your specific needs.